Athletes And Chiropractic
Athletes And Chiropractic
Whether you are a weekend warrior, an elite athlete, chiropractic can be a huge benefit to your performance and well-being. And it's drug-free!
---
The science of Chiropractic is founded on the premise that a proper nerve supply is essential to controlling and regulating the functioning of the human body. The nervous system controls every activity in the body by sending and receiving nerve messages and is protected by the bones of the spine called vertebrae. When the spine is in its optimal structural position, the nerves are protected and optimal communication exists between the central nervous system and the rest of the body. The vertebra of the spine is susceptible to certain stresses and forces, which can cause them to lose their proper position. These misalignments of the spine, which are known as "vertebral subluxations," cause nerve interference and weaken the entire structure of the spine. Athletic training can often jar and misalign the spinal column because the spine is at the center of the body. Impact on the legs, feet, head, shoulders, and torso often radiates to the spine.
Doctors of Chiropractic detect and correct vertebral subluxations by physically adjusting the spine. This restores the spine and nervous system to a more optimal level of function, which maximizes the body's performance and healing potential.
According to Sean Atkins, Ph.D., Exercise Physiologist, more than 90% of all world-class athletes use Chiropractic care to prevent injuries and to increase their performance potential.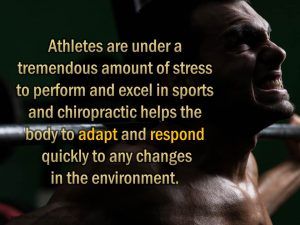 "…as long as I see the chiropractor, I feel like I'm one step ahead of the game." – Tom Brady, New England Patriots ~ 5 time Superbowl Champion and 4 time Superbowl MVP
"I believe in chiropractic, and I know it works. You probably know about my long and successful career in football. I'm flattered by the testimonials to my durability. Football is a very rough and vigorous sport. Chiropractic Was The Key To Keeping Me In The Game." –Jerry Rice, Wide Receiver ~ 3 time Superbowl Champion and Superbowl MVP
Athletes experience many different benefits from receiving chiropractic care. Not only can adjustments help when treating injuries from high-impact sports such as wrestling, football, and hockey, but they offer other benefits as well. It's been shown that high-impact sports can place the same amount of strain on the body as an auto collision. Athletes getting routine adjustments may notice improved athletic performance, improved range of motion, better flexibility, increased blood flow, and suffer from few injuries. Because spinal adjustments will reduce the irritation of the nerve roots between the vertebrae, the healing time from minor injuries can be shortened, improving performance. Chiropractic care offers a natural way to treat and prevent many different ailments that often plague athletes.
Call us today at (512) 346-3536 or request an appointment Here.
Monday
9:00am - 1:00pm
3:00pm - 6:00pm
---
Tuesday
9:00am - 1:00pm
---
Wednesday
9:00am - 1:00pm
3:00pm - 6:00pm
---
Thursday
9:00am - 1:00pm
---
Friday
Closed
---
Saturday & Sunday
Closed
Chiropractic Arts Center of Austin, P.C.